Image Credit // Derik Olsen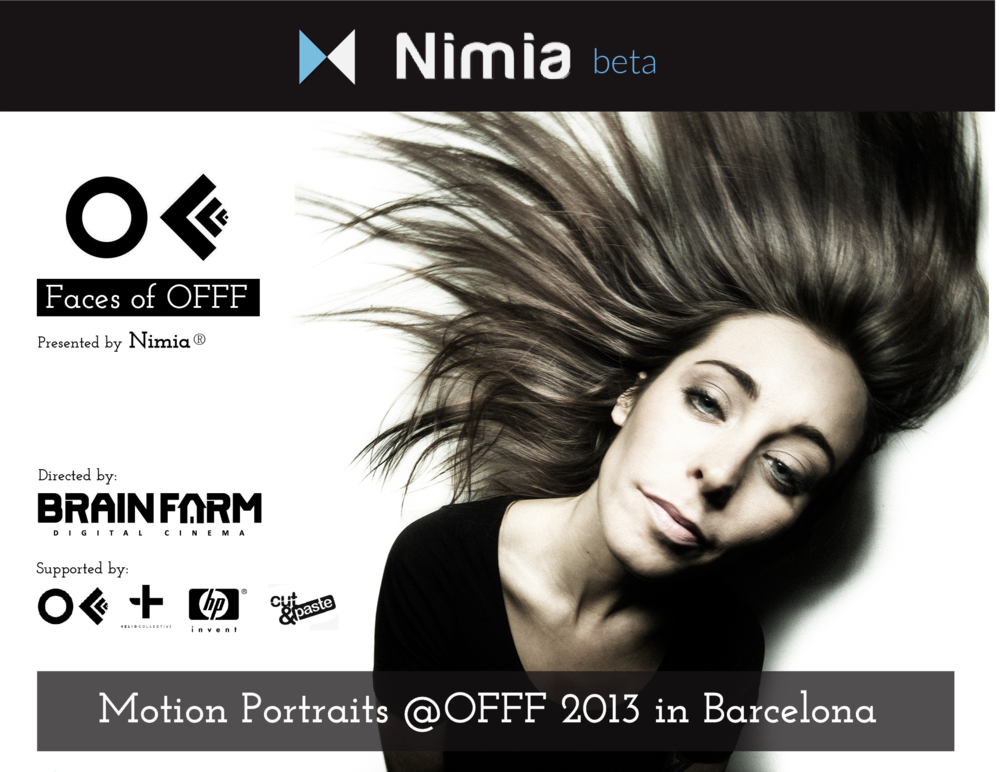 We are only a week away from the OFFF 2013 Creative Conference in Barcelona! Nimia is excited to be presenting the Cut & Paste event opening night. Nimia is also producing OFFF's Motion Portraits booth that is directed by Ty Evans and the team at Brain Farm Digital Cinema. 
Our mission for this project is simply to capture and preserve iconic motion portraits of the artists who set precedence in the industry. The "Faces of OFFF" will be shot on the Phantom camera @ 1000fps. We want to capture your character and preserve your image for generations to come.
We are lucky and thankful to be working with the teams at Brain Farm Digital Cinema, OFFF, Cut & Paste, and Helio Collective. 
"Faces of OFFF"
Presented by Nimia®
Directed by Ty Evans and Brain Farm Digital Cinema
Creative: Ty Evans, Derik Olsen, Chris Murphy, Zach McIntosh, Elliot Lindsey, Greg Wheeler  
Pre Pro Style Frames: Derik Olsen, Ty Evans, Greg Wheeler
Executive Producers: Zach McIntosh of Nimia and Chad Jackson of Brain Farm Digital Cinema
Producer: Elliot Lindsey of The Lever
Supported by: Hewlett Packard, Brain Farm Digital Cinema,   OFFF, Cut & Paste
Model: Yvonne Reddy
Visit:  www.nimia.com, www.brainfarmcinema.com, www.offf.ws, www.cutandpaste.com, www.heliocollective.com