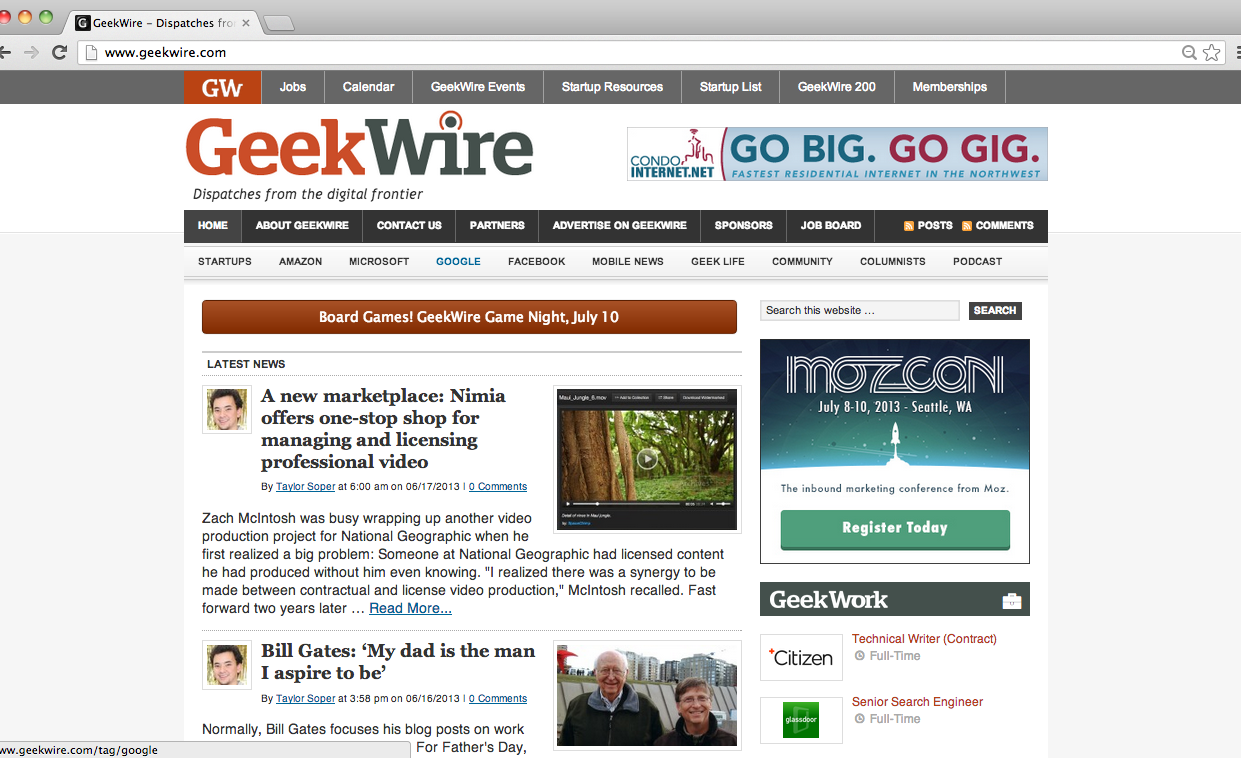 http://www.geekwire.com/2013/nimia/
June 17, 2013 at 6:00 am by Taylor Soper
Zach McIntosh was busy wrapping up another video production project for National Geographic when he first realized a big problem: Someone at National Geographic had licensed content he had produced without him even knowing.
"I realized there was a synergy to be made between contractual and license video production," McIntosh recalled.
Fast forward two years later after that eureka moment, and Nimia is officially here to make that synergy happen. The Seattle-based company today introduced a platform that allows video producers to archive, license and distribute their media from a centralized hub.
Nimia is a solution for both consumers and producers. People looking for video content can access Nimia's storefront to find premium cinematography that has been licensed by companies like ESPN and Red Bull. All that video is uploaded by producers who can use Nimia to host their content and easily make money — up to 90 percent commission —via licensing.
The company today also announced a $500,000 seed round led by investors likeRudy Gadre, Greg Bennett and Adobe veteran/former RealNetworks CEO Thomas Nielsen. The fresh cash will be used for market outreach and development.
"There is always a bit of magic when someone creates a new technology to solve a problem in their profession." Nielsen said in a press release. "Nimia understands the art and the business of visual creativity. They have created a powerful solution to bridge the needs of producers and their clients."
Once McIntosh realized the opportunity for Nimia, he reached out to Eric Harrison, an old college friend from Montana State who was at law school at the University of Washington. With McIntosh's wealth of first-hand experience in the media industry and Harrison's business background and intellectual property knowledge, the co-founders had an ideal combination of skills to start something like Nimia.
The pair spent a lot of time in research and development before recruiting a small team to build out the platform and establishing a revenue model. Nimia makes money primary through commissions on licensing costs, which vary depending on how many people will watch the content and the quality of media. The company also offers storage plans that allow customers to store and manage their large files in the cloud with Nimia's Media Asset Manager, and gives them the ability to send video directly to buyers.
Lucinda Stewart, a former VC who specialized in digital media at Seattle's now-defunct OVP Venture Partners, is an advisor to Nimia and sees great potential for the startup.
"The online video market is ripe for change," she told us. "There are a few big players that dominate the space and producers of content are pushing for better tools and better economics for their content in terms of licensing, management and storage."
Those big players include companies like Getty and Corbis, who do not allow media producers to access video files once they've sent their content, which is exactly what Nimia's Media Asset Manager brings to the table. Essentially, those companies only act as storefronts, while Nimia offers that and much more.
"This is a market with some big — and slower — players using an old business model being disrupted by a nimble, cool company that can instantly compete by passing more money back to the creators while offering them really cool tools and functionality," Stewart said.
McIntosh and Harrison have so much passion and faith in Nimia that they've decided to take minimum stipend of a $24,000 per year salary.
"It's great for our employees and motivates them that much more," Harrison said of the salary. "They see how much this company means to us and they want to succeed, not only for themselves, but for the company based on what they see with what we're doing."
Nimia eventually wants to become the go-to platform for B2B media management. With a strong group of angels and an advisory board that includes people like Stewart, Paul Weiskopf (former SVP of M&A at Adobe) and Jeff Bell (former Xbox marketing exec), the company seems well on its way.
June 17, 2013 at 6:00 am by Taylor Soper 
http://www.geekwire.com/2013/nimia/